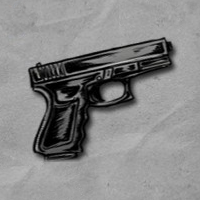 As of version 1.6 there are 16 weapons divided into 4 sets, one for each Quality Level. Each sets consists of 4 weapons: A melee weapon, a pistol, an assault rifle and a shotgun.
Weapons have two main characteristics:
Damage
Attribute bonuses (for Quality Levels 2 and above)
Weapon with Quality Levels 1 and 2 can be crafted by any character with 1 point in Crafting, while the next two sets require 5 and 10 points, respectively.
Weapon levels (not to be confused with Quality Levels) range from 1 to 10. They depend on the level of the craftsman.
Amateur: Level 1-3
Intermediate: Level 3-5
Professional: Level 5-7
Weapon levels can be further improved with Weapon Upgrade Kits. Upgrading weapon level increases minimum and maximum damage, as well as the bonus attributes.
List of Weapons
[
]
Icon
Weapon
Requirements
Quality
Attributes
Club
×12
×1
×2
1
0
Glock
×10
×2
×3
1
0
Shotgun
×16
×2
×4
1
0
Uzi
×12
×2
×6
1
0
Steel-plated Club
×12
×1
... ×2
2
1
P9
×10
×2
... ×3
2
1
Combat Shotgun
×16
×2
... ×4
2
1
MP5
×12
×2
... ×6
2
1
Baseball Bat
×12
×1
... ×2
3
2
Revolver
×10
×2
... ×3
3
2
SPA Shotgun
×16
×2
... ×4
3
2
AK47
×12
×2
... ×6
3
2
Nightstick
×12
×1
... ×2
4
3
Colt
×10
×2
... ×3
4
3
Military Shotgun
×16
×2
... ×4
4
3
AK47-2
×12
×2
... ×6
4
3